Information

Downloads

---

Hi! California Classic Propliners is devoted to the Microsoft Flight Simulator simulation of the propliners flying in California, from the DC-3 to the final glory days (before the mid 1970's). Welcome!

This page will generally be limited to post-WWII propliners that flew in or into California on a scheduled or regular charter basis, and US carriers will have priority. (I hope others will develop similar pages for other areas and for later /earlier airliners - let me know and I'll set up a link!) I would like to thank everyone who has built, modified, or helped with the planes and other resources on this page.

Search the Cal Classic Propliners Site!
Click your browser's Back button to return here
FSX and P3D Information:
Most of my (i.e. Greg Pepper's) propliners (i.e. the CV-340, DC's, etc.) have been tested in FSX and P3D v1 and v2 and they work OK. They are not compatible with P3D v3 or later. You may need to find compatible blurred prop textures if you are using FSX SP2 or later. Engine start switches have the most problems when using FS9 panels. Sounds are OK as is. If you get a emergency power warning in the sim, put // in front of the line in the plane's panel.cfg file that includes dsd_supercharger!supercharger_transparent.
Compatibility of scenery, etc varies; ask at my forum in case someone has already tested it.
Help
Do you need help with installation? How do I get my plane listed properly in the Select Aircraft menu? How do I get ATC to call my plane using the correct airline, manufacturer, and model? Take a look here first!
Note: Some of the file downloads are located in the AVSIM and flightsim.com file libraries. You need to be logged in to their file systems before the links will work directly.
Are You Just Starting Out Flying Propliners?

First, some instructions on using this site.
1. If no text link is provided, click the picture to download it.
2. The main page links are at the top of this page, alongside the "post card". Information on the left side, downloads on the right.

Here is a checklist of things you might want to do to maximize your enjoyment.

1. Download and read the FSAviator Propliner Tutorial. It will give you most of what you need to know about flying propliners.
2, If you are using FSX or P3D v1 or v2, read the FSX Propliner Tutorial. This will give you instructions on setting up the views.
3. Download and install any propliner Base Packs. They are listed on my Aircraft Page.
4. Download and install any other airline liveries to the Base Packs. Follow the text files included in the Base Packs to add these textures. Do NOT install complete aircraft when adding to a Base Pack, only add the textures to the Base Pack.
5. Download and install any desired classic airport scenery packages from my Scenery Page. Don't forget to add these as a layer in the Scenery Library. The correct layering of the scenery layers can be found at the top of my Scenery Page.
6. If you installed any classic airport sceneries download and install the FS2004 Custom Scenery Library (files 1 and 2).at the top of my Scenery Page. If you are installing into FSX, also install the FSX version after installing the FS2004 files.
7. If you want worldwide classic AI traffic, download files 1-10 (at least) from my AI Aircraft Page and install them. Follow the instructions in the traffic file download to allow the use of modern traffic when you desire.
8. If you have any problems, head to my Forum. Register and post a question there. Propliner questions should be posted to the main Discussion Forum. If you are interested, keep up with the latest developments right there in the forum.



Hope you enjoy flying the propliners!
June 18, 2019
Updated Aircraft! I've converted the DC-7C models to FSX native and created a separate Base Pack for FSX and P3D.
June 17, 2019
Updated Aircraft!

I've converted the DC-7 models to FSX native and created a separate Base Pack for FSX and P3D.
June 16, 2019
Updated Aircraft

!

I've converted the CV-340 and CV-440 models to FSX native and created separate Base Packs for FSX and P3D.
April 30, 2019
April 24, 2019
New Livery! I've painted up a United DC-7 in 1960 colors.

April 23, 2019
New

Scenery! Ken Lawson with Shannon from 1954.

April 21, 2019
New Sceneries! Aaron Seymour again with Adelaide and Hobart in 1962.


April 17, 2019
Updated Liveries! I've updated the American and United DC-7F liveries from Frank Gonzalez!



April 14, 2019
New Scenery! Aaron Seymour has created more airports - Colombo, Ceylon, and Christchurch and Wellington, New Zealand!



March 1, 2019
New Scenery!

Aaron Seymour has created Brisbane Eagle Farm in 1965 and Perth Intl. in 1963!


February 21, 2019
December 31, 2018
Rome Fiumicino

in 1961 from Michael Schneider, Mike Stevens, and Tom Gibson.


Mexico City

in 1962 from Eduardo Rocha, Tom Gibson, and Mike Stevens.

December 17, 2018
New Tutorial!

Converting FS2004 Aircraft to FSX format using ModelConverterX.
December 16, 2018
June 14, 2018
April 27, 2018
February 13, 2018
December 18, 2017
Updated Scenery!

Wolfgang Gersch has updated his 1962 Jakarta Kemayoran scenery!

December 1, 2017
New Scenery!

Wolfgang Gersch has created Macon, GA and Warner Robins AFB!

July 13, 2017
New Scenery

!

Al Courtney, Kenny Fox, and I have created Miami in 1962!


Updated Scenery!

Mike Stevens has updated my LaGuardia 1959 scenery! Casey Brasel has created an FSX version!

February 7, 2017
July 26, 2016
New

Scenery

!

Ushuaia Argentina 1962 by Mike Stevens!

June 17, 2016
May 31, 2016
New

Scenery

!

Recife Brazil in 1962 from Wolfgang Gersch and Harry Biard!


May 17, 2016
New

Scenery

!

Chris Helton has created version 2 of Washington National Airport!


May 1, 2016
New

Scenery

!

Mike Stevens and I have created Prestwick airport in 1962!

April 2, 2016
FSX

Scenery

!

Karachi Pakistan converted by Casey Brasel!


Nice, France conveerted by Casey Brasel!


March 31, 2016
March 25, 2016
New Scenery!

C. Czarnecki has created Pennsylvania Airport Scenery Vol. 1!


Finlay Fraser has created Basra Maquil and Abadan!


February 29, 2016
New Scenery! Pacific Northwest 1960 scenery version 2 is here!


February 26, 2016
New Scenery! Buenos Aires Ezeiza airport from 1961 by Harry Biard, Alejandro Ramirez, Jaap de Baare and Wolfgang Gersch!


February 24, 2016
New Scenery! Athens, Greece airport from 1962!

February 7, 2016
AI Traffic Update! New liveries and airlines! GA traffic updated too!

January 19, 2016
Happy New Year!

New Scenery! Tunis El Aouina airport in 1960 from Michael "Sabi" Schneider, Wolfgang Gersch, Harry Biard and Tom Gibson!


November 5, 2015
October 28, 2015
New Scenery! The 1961 Bordeaux Merignac airport (LFBD) has been updated to an FSX/P3D version!


October 17, 2015
New Scenery! Alejandro Ramirez and others have created Grenoble Mermoz in 1963!


August 16, 2015
New FSX/P3D Classic Library mega pack using DDS textures! Conversion by Alejandro Ramirez.
August 4, 2015
CalClassic Propliners has received the Editor's Choice Award from FS Magazin! FS Magazin is a German magazine that publishes information about the latest FS news and releases, along with in depth articles on many aspects of Flight Sim. There will also be an article about this site in the June 2015 issue, when released. I am honored that our community has been chosen for this award!

May 4, 2015
New Scenery! Juan Antonio Martinez Castro has created Melbourne and Brasilia airport scenery. Brasilia city scenery too!

February 4, 2015
New Scenery!

Mike Stevens and I have created version 7 of the California 1959/1962 project!




January 27, 2015
Happy New Year!

New Scenery!

1962 Oklahoma City airport scenery from Dan French!

March 15, 2014
Classic Libraries for FSX now available! Install the FS2004 version, then the FSX update.
October 10, 2012
Tutorials Updated! The FSX Mini-Tutorial has been updated with new information about cfg settings with widescreen monitors, the Repainting Tutorial has been updated with new techniques for using DXTBmp, and the Sketchup Tutorial has been updated to use the latest version of the Material Editor in ModelConverterX. There is also a new tutorial on changing multiple colors at once using PSP 7.0. BTW, if you haven't read FSAviator's Propliner Tutorial, please do it now!
October 21, 2010
New Scenery Package!
Custom Scenery Library. This file (175MB) contains almost all addon scenery libraries needed by our classic sceneries. Once this is installed, you can normally ignore the "download and install these scenery libraries" advice in the text files.
February 23, 2010
System 7 users - when adding scenery to the Scenery Library, after finding the new scenery's folder and clicking OK, you will need to right click the empty white space in that box so the box closes and the new scenery is actually be added to the library.
February 1, 2010
Classic Era Charts now available! Thanks to several generous people we now can see how the airlines flew into various airports back in our era. There are also airport diagrams available!
November 15, 2006
New Tutorial! FSAviator has created a vintage flying tutorial, for aircraft like the Ford Trimotor! It also includes a flight dynamics tweak for the Trimotor!
July 29, 2004
New Tutorial Quick Reference File! FSAviator and I have created a Quick Reference guide for use when actually flying an airliner route, using the techniques explained in his tutorial (below). However, you must have read and understood the entire tutorial first before you will be able to use the quick reference file.
July 20, 2004
New FSAviator Propliner Tutorial! This is it! The only tutorial written that describes in complete detail how to fly the propliners like they really were flown in the classic era (from 1932 up to about 1955 in the USA, later in other areas). Most information is completely applicable for flying in later years as well. It comes in text file format, and includes 5 parts:

General Operation of Propliners
Flying the Ranges
Arriving
Departing
Flight Planning for Long and Short Distance Flights

This is an exhaustive tutorial that takes you through the details of each phase of flight, and comes complete with approach plates for visual aids (Adobe Acrobat required to view/print approach plates). The complete tutorial is 1.1 MB. I printed it, read it, and now keep it by my computer for ready reference! Copyright FSAviator July 2004.
June 15, 2002
The California Classic page has a new home! We've moved into our new home - www.calclassic.com, and I hope that you like it.
March 14, 2000
The Classic Airliner Page has become the California Classic Propliners page! Same address as below.
January 18, 1996
The Classic Airliner Page is born! Its original address was http://members.aol.com/TGFltsim/
---


Jets are for kids!
Instructions for many problems and how to install aircraft, panels, and sounds here.
---
Hi! I'm Tom Gibson, and I hope you enjoy my page. If you have any questions, don't forget to check the Instructions first!! You can get many questions answered by leaving a message at the California Classic Forum (propliner questions) or the FreeFlight Forum (aircraft design questions). You can also send me email - this is a despammed address - remove the first t from the address!!

My other interests include railroads (especially Alco diesels and the WP), computers, camping, fly fishing, and Modoc County (far northeast California). Drop by again - soon!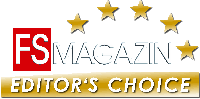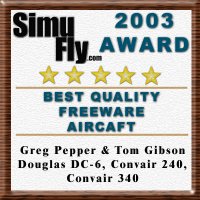 ---