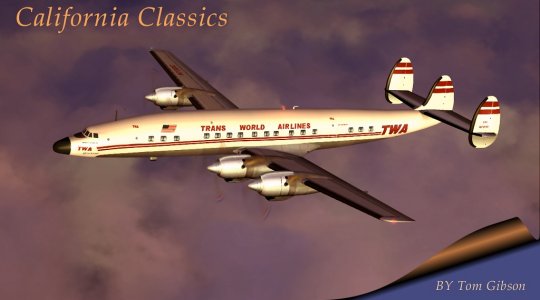 Classic AI Airliners, GA, and Traffic
Classic AI Airliner Traffic for FS2004
Over 1000 aircraft worldwide!
See below for classic GA, Helicopter, and MATS Traffic!
By Tom Gibson and Mike Stevens


Pictured: LAX in 1959. These files include a complete classic AI environment for FS2004 - just install the files and they will start flying their routes! Includes accurate flights from vintage timetables for most of the world (coded by Tom Gibson, Jason Krogmann, Manuel Jagmann, Bill Towers, Nikko Yaginuma, Richard Wright, Frederick Coleman, Dave Jones, Paul Haak, Marty Lochmiller, Ake Lindberg, and Harland Sandberg. Richard Wright provided many timetable scans; Gary Harper provided some too. Other scans provided by timetableimages.com). Also includes flights from FSAviator's notes and other sources as well as charter and freight airlines. Mike Stevens painted over half of the planes himself and adapted most of the rest of the textures - thanks a lot!! Easy to install. AI aircraft include night lighting and airstairs. Timetable traffic typically has 3 digit (or fewer) flight numbers; accurate but not scheduled traffic (charter, freight, etc.) typically has 4 digit flight numbers
Minor Update on 2/7/17. Added several new airlines and new liveries. Another update on 9/30/17. Added airlines and schedules for small airlines in Japan. See the text files in file #9 for details.
Warning! These files are highly compressed. If you install the Basic Package (files 1 through 10), it will require aproximately 2900 MB of disk space.
Red indicates new/updated aircraft in the minor updates. HQ indicates a High Quality Model (optional, livery downloads required)
AI File One Contains the Boeing B307 and B377 HQ, Douglas DC-3 and DC-4 (18 MB). Required Updated on 2/7/17
AI File Two Contains the Douglas DC-6 HQ, DC-6B HQ, DC-7 HQ, and DC-7C HQ (19 MB). Required. Updated on 2/9/17
AI File Three Contains Russian/Soviet aircraft (Antonov An-2 and An-10, Lisunov Li-2, Ilyushin IL-14, IL-18, Tupelov TU-114, Aero 145 and LET L-200) (39 MB). Required. Updated on 6/26/17
AI File Four Contains Convair-Liners (CV-240 HQ, CV-340 HQ, CV-440 HQ, and CV-580), Martin 202 and 404, turboprops (Lockheed L-188, Fokker/Fairchild F-27 HQ), Lockheed L-10 Electra, Curtiss C-46, Breguet Deux Ponts, Broussard, Piper PA-28, Dornier Do-27 and Do-28, Nord Noratlas, and Beechcraft 18, Bonanza, and Baron, Stearman, and Queen Air (27 MB). Required. Updated on 9/30/17
AI File Five Contains British aircraft (Bristol B-170, DeHavilland Dragon Rapide, Dove and Heron, Percival Pembroke, Aviation Traders Carvair, Avro 748, Airspeed Ambassador) (25 MB). Required. Updated on 9/30/17
AI File Six Contains British/Commonwealth aircraft (Vickers Viking, Viscount HQ and Vanguard, Canadair North Star and CL-44, Avro York, Bristol Britannia, Scottish Twin Pioneer, Shorts Sandringham, DeHavilland Canada Beaver and Otter, and the Handley Page Hermes) and the SAAB Scandia (24 MB). Required. Updated on 6/26/17
AI File Seven Contains Lockheed Constellations (L-049 HQ, L-749 HQ, L-1049 HQ, L-1649A HQ), and watercraft Grumman Albatross, Mallard, and Goose, Consolidated PBY, and Sikorsky VS-44. Updated on 9/30/17
AI File Eight Contains Boeing jets (367-80, 707-120, -120B, -138, -138B, -320, -320B, 720, and 720B), Douglas DC-8 and DC-8-52, Convair 880 and 990, Sud Est Caravelle, DeHavilland Comet, Lockheed Jetstar, and the Tupolev Tu-104 (24 MB). Required if you want to see jet aircraft. Updated on 2/12/16
AI File Nine Contains the Traffic Files to provide the flights that the AI Aircraft will fly (17 MB). These files have been modified to use all the classic airports, including Denver Stapleton (XDEN) instead of Denver International, Hong Kong Kai Tak (VHHX) instead of Chek Lap Kok, Munich Riem instead of International, etc. (17MB) Required. Updated on 9/30/17
AI File Ten Contains AFCAD files that have backdated parking (the planes make a terminal turn), runway and taxiway markings, and other improvements. Certain airports also contain backdated airport layouts, and newer terminals and runways have been removed. Airports recently constructed have been removed from FS. These files are added to the CalClassic Core scenery layer to make them easy to turn on and off. Also includes Franciso Molo's SAEZ (Buenos Aires Ezeiza), KRS1 (old Rochester), and EG9E (Nutt's Corner) and old Los Angeles Grand Central airport. The rest do not contain new terminal buildings or extra airport details often found in actual scenery packages. Required. Updated on 11/30/13
AI File Eleven Contains AI Sound Effects. These effects will provide the tire "chirp" upon touchdown and also play a reverse thrust sound for those aircraft that had reverse. It also contains the standard AI idle sounds that I use for my classic propliner AI, in case you would like to try them. Optional. Last updated on 1/17/10!
AI File Twelve Contains Editvoicepack import files from Mike Stevens and myself, to give you virtually all the phrases required for all the new liveries and planes! (0.25 MB) Warning! The file changes the name of the KSAC airport to Sacramento (from Executive), KJFK to Idlewild (from Kennedy), etc. Do not import these airports if you don't want this to happen. You need to download and install EditVoicePack 3 first before you can import the phrases (File/Import). Make sure you do the web update too to get all the phrases. Optional. Updated on 11/30/13
AI File Thirteen Contains Miscellaneous AI Aircraft never or only rarely used in the supplied Traffic Files (VC-118, CV-600/640)(0.6 MB). Not Needed. Updated on 7/8/14 (CV-600 model updated)
Aircraft Included:
I have not identified all of the painters of some of these schemes - please let me know if you painted anything not credited. The credits for the original planes are in the plane's folders - I have made significant changes/improvements to almost all of them. The credits for the liveries are in each of the texture folders. Red indicates new aircraft/liveries in the last major release.
Aircraft
Number of Airline Liveries
Notes
Airspeed Ambassador
Five
5
Antonov AN-10 Ukraine
One
18
Antonov AN-2
Eighteen (three new)
19
Aviation Traders Carvair
Five
25
Avro York
Six
29
Avro 748
Two (one new)
20
Beechcraft Baron (new)
Two (two new)
37
Boeing B307 Stratoliner
Six
4,
Boeing B377 Stratocruiser HQ
Eight
2, 33
Boeing B707-120
Seven
21
Boeing B707-120B
Three
21
Boeing B707-138
One
21
Boeing B707-138B
One
21
Boeing B707-320
Fourteen
21
Boeing B707-320B
One
21
Boeing B720
Six
21
Boeing B720B
Ten
21
Breguet 763 Deux Ponts
Two
32
Bristol B-170 Freighter
Eighteen
28
Bristol Britannia
Nineteen
8
Canadair DC-4m
Twelve
1
Canadair CL-44
Three
8
Consolidated PBY
Five (one new)
28
Convair CV-240 HQ
Twenty Three (one new)
3, 33
Convair CV-340 HQ
Twenty Four (one new)
3, 33
Convair CV-440 HQ
Thirty Two
3, 33
Convair CV-580
Two (two new)
13
Convair CV-600
One
14, 15, 16
Convair CV-640
One
14, 16
Convair 880
Nine
21
Convair 990
Five (one new)
22
Curtiss C-46 Commando
Sixty One (five new)
4
DeHavilland Dragon Rapide
Seventeen (one new)
31
DeHavilland Dove
Twenty (six new)
21
DeHavilland Heron
Fourty (three new)
20
DeHavilland Comet
Fifteen (three new)
21
DeHavilland Canada Beaver
One
26
Dornier Do-27 (new)
Four (four new)
26
Dornier Do-28 (new)
One (one new)
38
Douglas DC-3
Two Hundred Twenty (twenty seven new)
7
Douglas DC-4
One Hundred Eighteen (eight new)
1
Douglas DC-6 HQ
Thirty Two (four new)
1, 33
Douglas DC-6B HQ

Ninety Three (six new)

1, 33
Douglas DC-7 HQ
Eighteen (two new)
1, 33
Douglas DC-7C Seven Seas HQ
Thirty (one new)
1, 33
Douglas DC-8
Nineteen
21
Douglas DC-8-52
Nine
21
Fokker/Fairchild F-27 HQ
Twenty Seven (one new)
6, 34
Grumman Goose
Five
17
Grumman Albatross
Two
28
Handley Page Hermes
Eight
5
Ilyushin IL-14 (new models)
Thirty One (eleven new)
11
Ilyushin IL-18

Twenty (five new)

12
LET Aero 145
Ten (eight new)
26
LET L-200 (new)
Three (three new)
39
Lisunov Li-2 (DC-3) ( new model)
Fourteen (seven new)
7
Lockheed L-10 Electra
Five (four new)
17
Lockheed L749 (L049) Constellation HQ
Thirty Six (six new)
4, 36
Lockheed L1049G Super Constellation HQ

Forty Six (two new)

4, 35
Lockheed L1649A Starliner HQ
Eight (two new)
4, 35
Lockheed L-188 Electra
Eighteen
10
Martin 202
Six
3
Martin 404
Eight
3
Percival Pembroke
One
29
SAAB Scandia
Two
30
Scottish Twin Pioneer
Five (three new)
28
Shorts Sandringham
Six
30
Sikorsky VS-44
One
27
Sud Est Caravelle
Sixteen (one new)
21
Tupelov TU-104
Three
23
Tupelov TU-114
One
9
Vickers Viking
Thirty Three
24
Vickers Viscount HQ
Sixty One
4, 40
Vickers Vanguard
Two
4
Total Aircraft: Seventy Two
Liveries: One Thousand Three Hundred Twenty Eight!!!
One Hundred Thirty Six New!!!

1) Original aircraft by Tom Gibson and Harry Follas
2) Original aircraft and paint by Dave McQueen and Rui Cristina.
3) Original aircraft by Tom Gibson, Dee Waldron, and Dave McQueen
4) Original aircraft by Dave McQueen, modified by Tom Gibson
5) Original aircraft by George Hauzenberger; textures used by permission.
6) Original Aircraft by Tom Gibson and Rob Bennis
7) Original Aircraft by JAI, used with permission. Base textures by Jan Visser and Mark Beaumont, used with permission.
8) Original Aircraft by George A. Vega, adapted for Mike Stone's texture map by Tom Gibson, textures used by permission of Mike Stone and Tony Madge.
9) Aircraft by Mehlin Rainer
10) Original Aircraft by Kevin Trinkle
11) Aircraft by Jager.
12) Aircraft by Pavel Hvatkin.
13) Original aircraft by Frank Safranek, Kevin Trinkle, Dee Waldron, and Tom Gibson
14) The CV-600 and 640 not included in the AI traffic. Included here for those who may wish to use them.
15) Painted in 1974 Texas International paint by Sheppard Avery.
16) Original aircraft by Tom Gibson, Dee Waldron, Frank Safranek, Harry Follas, and Dave McQueen
17) Original aircraft by Bill Lyons, used with permission
18) Aircraft by Dimitri Samborski , painted by Dimitri Samborski and Andrei Maslov
19) Aircraft by Tim Conrad
20) Aircraft by Dee Waldron
21) Original aircraft by Dee Waldon, modified by Tom Gibson
22) Convair 880 by Dee Waldron, converted to 990 by Tom Gibson
23) Aircraft by Anton Nikolaev, Dmitry Dobronravin
24) Original aircraft by Rick Piper, converted to AI by Tom Gibson
25) Aircraft by John Walton
26) Aircraft by Mike Cronin
27) Original aircraft by George Diemer
28) Aircraft by Mike Stone, used with permission
29) Aircraft by Manfred Jahn
30) Aircraft by Jens Kristensen
31) Original aircraft by Dave Garwood
32) Original aircraft by Barney Bigard
33) Original HQ aircraft by Greg Pepper
34) Original HQ aircraft by Mike Stone
35) Original HQ aircrafty by Manfred Jahn
36) Original HQ aircrafty by Volker Bohme and Manfred Jahn
37) Aircraft by Klaus Brosemann
38) Aircraft by Anthony Konstantinidis
39) Aircraft by Pavel Toman
40) Original HQ aircraft by Rick Piper, AI mods by Jaap de Baare
---
Classic GA Traffic for FS2004
Noel Sivertson has created GA traffic for over 200 California airports! He also has a plane doing touch and goes at most airports. We have also included a default GA traffic file for the rest of the world, using the classic GA aircraft. His file uses detailed GMAX aircraft from Milton and others, and may be hard on frame rates in crowded areas (like LA) unless you have a powerful computer. Thus I have modified his file to use more frame rate friendly classic GA aircraft. Please note that many of the aircraft themselves are not included - they are to be downloaded separately. Filenames and download locations are given to make this easy, along with a few AI modifications (included). (While flightsim.com is often listed, most of these planes are also available at AVSIM).
Updated on 10/15/08 to remove almost all GA traffic from the Soviet Bloc, China, and other communist countries.
Classic GA Traffic using detailed aircraft (5 MB) Updated on 11/29/11.
Classic GA Traffic using frame rate friendly aircraft (5 MB) Updated on 2/7/16.
Classic Seaplane Traffic also available! Noel has also created scenery and traffic for 11 Northern California Seaplane bases! Last updated on 10/5/08.
---
Classic Helicopter Airline Traffic for FS2004

Back in the classic era, several airlines utilizing helicopters were in operation, and Sabena had a helicopter operation of their own. This has now been recreated for FS! Designed to be used with the AI Propliner Traffic packages (above) and the CA59/62 scenery (from the Scenery page), this package will add helicopter traffic to your 1957, 1959, and 1962 AI traffic. Seen above is LAX in 1962, with LA Airways Sikorsky S-61's lined up for their morning departures to Disneyland and other heliports. Jason Krogmann coded some of the schedules, and I did the rest. Updated on 2/12/16!
Harry Biard has also created the incredibly detailed Sabena heliports - you'll want to see every one of them! Now with completely updated Paris and Brussels City heliports!
Airlines included:
LA Airways (S-55 in 1957 and 59, S-61 in 1962)
SFO Airlines (S-62 in 1962 only)
Chicago Helicopter Airways (S-58)
New York Airways (V-44 in 1957 and 59, V-107 in 1962)
Sabena (S-58)

Sikorsky S-55 by Marinha do Brasil - Project FAB Veteranos, LA Airways livery by Randy Cain
Sikorsky S-58 by Paul Bradshaw, Chicago Airways livery by Randy Cain, Sabena livery by Joop van Dijk
Sikorsky S-61 by Dave Hardcastle, LA Airways livery by Heather Sherman
Sikorsky S-62 by Nate Rosenstrauch, SFO Airways livery by Tom Gibson
Piasecki V-44 (H-21C) and NY Airways livery by Mick Posch
Vertol 107 by Rory Kelly, NY Airways livery by Randy Cain
---
Classic MATS Military Traffic for FS2004


Seen above is the lineup at Hickam Field, Honolulu Hawaii - two C-124 Globemasters, a C-97 Stratofreighter, and a big C-133 "Weenie Wagon"!
Latest update includes traffic for Shemya and Attu.
This package by Mike Stevens and myself will do two things - add military parking to many of the MATS bases around the world, and add classic AI traffic to those bases. Note that this will NOT add military traffic other than MATS (Military Air Transport Service) aircraft (i.e. no fighters or bombers). The aircraft included are listed below. You will need to download and install the DEW Line scenery from my Scenery page to see traffic in the far north. You should also import the latest EVP file above (#11) to get the "Air Force" called out. 13 MB. Updated on 1/30/17.
C-46: Original aircraft by Dave McQueen
C-47: Original Aircraft by John Kelley, Marcel Ritzema and Alexander Schmidt
C-54: Original aircraft by Tom Gibson and Harry Follas
C-97: Original aircraft by Dave McQueen and Rui Cristina, improvements by Dee Waldron.
C-118A: Original aircraft by Tom Gibson and Harry Follas (HQ model available)
C-121A: Original aircraft by Dave McQueen, modified by Tom Gibson (HQ model available)
C-121C: Original aircraft by Dave McQueen, modified by Tom Gibson (HQ model available)
C-124: Original aircraft by FS-Berlin (improved)
C-130: Original aircraft by Mike Stone NEW!
C-131: Original aircraft by Tom Gibson, Dee Waldron, and Dave McQueen
C-133: Original aircraft by Mike Stone
C-135: Original aircraft by Dee Waldron, modified by Tom Gibson
C-140: Original aircraft by Dee Waldron
EC-121D and WV2: Original aircraft by Dave McQueen, modified by Mike Stevens and Tom Gibson
VC-3: Original aircraft by Tom Gibson, Dee Waldron, and Dave McQueen
VC-137: Original aircraft by Dee Waldron, modified by Tom Gibson
PV2-7: Original aircraft by Geoff Chambers and Jaap de Baare
P-3: Original aircraft by Jake Burrus
U-8F: Oriignal aircraft by Mike Stone