The Cal Classic Alco Page
---
Hi! This page will be a source of information on US Alco diesels. Welcome!

---
Go where you want NOW with FAST TRACK:
What's New? Photos Century List 251 RS/RSD List Museums Alco-Related RR Personal
Update Notification

---
Featured Vintage Alco Photos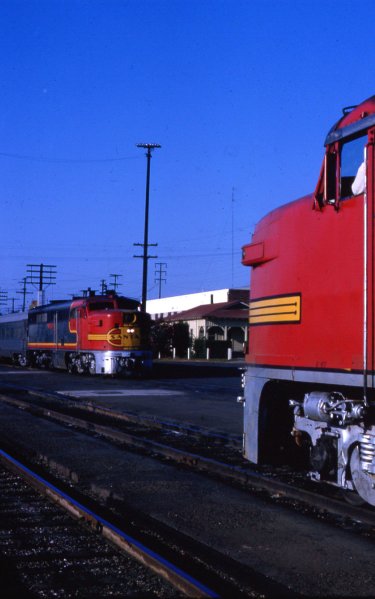 Dave Willoughby took this great shot of San Diegans #77 and 78 meeting at San Diego. Thanks!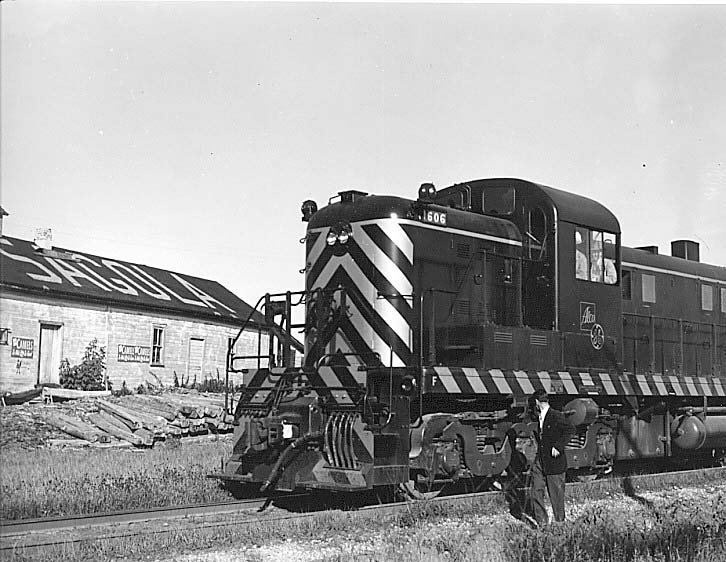 Here is the Alco demonstrator at Sagola, MN on the MILW, marching up Sagola Hill at 5 mph. Don MacLaughlin (a GE guy) is looking for wheel slips, but the unit is doing just fine, thank you! A wonderful shot taken by Bill Battle. Thanks!
Previous images are available in the Photo Gallery
---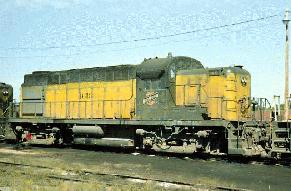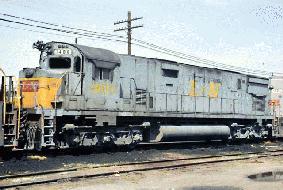 I photographed these Alcos on two of the many trips I took around the country in the 70's and 80's. Captions and more pictures in the Photo Gallery!
How do you describe the 4 cycles of an Alco engine? Suck - Squeeze - Bang - Blow !!!
---

Hey Tom, What's New?
Here's what's been added recently:
June 5, 2008
New Museum! The Niles Canyon Railway sports an SP S6! Thanks to Howard Wise for the info.
January 23, 2008
New Museum! The Oklahoma Railway Museum has 2 RS-3's and an RS-1!
June 19, 2006
New Museum! The Arkansas Railroad Museum hosts an RSD15, RSD12, and a C630, from Ed Cooper!
May 23, 2006
New Photo Links! Eddie Gross has updated his GBW address, and added an Alcos in Michigan page!
February 9, 2006
New Links! The Diesel Shop provides rosters, data sheets, pictures, and more!
12/13/05
New Museum Info! Lance Charter has sent details of the Southern Michigan Railroad Society!
9/22/05
New Museum Info! Berkshire Scenic has added RS3m 9935 to it's operating roster!
7/14/03
Century Roster updated - GBW C424 info from Mark Mathu!
New Museum Info!

Durbin & Greenbrier Valley RR (West Virginia Central)
Lots of updates too

New Link! - Green Bay Route from Mark Mathu!
1/19/03
251 Roster updated - new RS32 updates!
New Museum Info!

Rochester & Genesee Valley RR Mus.
Gulf Coast RR Mus.
Arkansas-Missouri RR
Canadian Rwy. Mus.
7/14/02
Century Roster updated with info from Stewart Anderson!
Many links updated!
6/26/02
11/25/01
New Photos!

David Horst has photos of Iowa Interstate and Pioneer Ind. Ry Alco's

New Museum/Tourist!

Morristown and Erie has private car charters behind Alcos!
6/30/01
New Museums!

Gulf Coast RR Museum
Updates on Monticello Rwy Museum and WP&Y

New Links!

The Iron Horse in Schenectady site has details of a new PBS/History Channel documentary on Alco! (via Dan Dufresne)
3/3/01
New Museums!

Southern Appalachia Ry Museum, with S-2's and an RS-1! (via Jackson Case)
Museum updates: Austin & Texas Central via Ross Cravens and the Hobo RR!

New Roster Updates!
New Link Updates!

Peter Cokely's Alco's of Australia!
Mark Mathu's Green Bay Route!
9/9/00
9/95
The AlcoHauler Home Page is born! - devoted to the history of Alco diesels in the US.
---

Alco Information from the AlcoHauler Home Page
Alco Century Roster Details of the Alco Centuries, model by model (my work in progress).
251-Powered Alcos (pre-Century) Those Alcos just before the Centuries (also needs help!).
Photos of Alco diesels I've taken, as well as photos I've found on the Internet.
[Anyone have Alco diesel picture files that they would like to see listed? Send me the URL!]
Here's where you can find out where to see and ride the old Alco's! If you have any others, please let me know!
---
Alcohauler Links
Other Alco-related resources
| | |
| --- | --- |
| ALCO Forum | John Stewart at www.railroad.net has given us our own web forum! Post the latest local Alco news, ask questions, or just let us know about your lastest Alco encounter! |
| Canadian Alco/MLWs | John Reay's great page on the Alcos of Canada. |
| Alco Notebook | A nice collection of Alco photos and info from John Mech |
| Alco Alert Page | John Mech's page about Alco news in the Northeast |
| Alcoman Train Page | A nice collection of Alco info. |
| Craig's Alco Page | Craig Rutherford's page of Alcos photos |
| Sam Berliner's Alco Page | Sam's page has an interesting mix of info |
| The Diesel Shop Alcos | All kinds of Alco info. |
| Alco Rosters | The Diesel Shop listing of the Alco units produced. |
| Preserved Alcos | The Diesel Shop listing of preserved Alcos. |
| Alco Demonstrators | The Diesel Shop listing of demonstrators and test beds. |
| Alco Diesel Data Sheets | The Diesel Shop data sheets for almost all Alcos |
| M&H Chapter NRHS | The Mohawk & Hudson Chapter of the NRHS has a large collection of Alco builder photos available for sale, and other Alco info. |
| The Railroad Net | John Stewart is featuring articles about Alco's from the BLFE magazine from the 40's and 50's, Alco's role during WWII, and photos of Alco's of several RR's. |
| The Green Bay Route | Mark Mathu's page about one of the last all-Alco roads, now gone. |
| Arkansas & Missouri | The Alco-filled A&M has their own web page - neat! |
| Riding the Last Alcos | All about the last runs of the Cartier Alcos |
| Exotic Diesel Locos | Brian Holt's page about cab units, including FA's and PA's |
| Fallen Flags Page | Alco images and operators manuals by George Elwood. |
| Diesel Shop | Craig's site with lots of early power, including Alco's. |
| The Yard Limit | Mark Laundry has all kinds of Alco (and other) switchers. |
| The Railfan Network | There are several Alco photos in the archive, and lots of other RR info. |
| The RR Paintshop | A page with Alco drawings that you can use to paint, by Joshua Moldover |
| Alco World | Rolf Stumpf's excellent page on Alco's of the world. |
| Alcos in USA and Beyond | Andy Inserra's web page about all things Alco. |
| Indian Alco Page | Great Alco photos by Apurva Bahadur |
| Alco's of Australia | Peter Cokley's very nice page on Alco's down under. |
| Alco's from Argentina | Argentinian Alco images from Roberto Yommi, including RSD16's and RSD35's. |
---

Other railroad information
---

Some personal pages
---
Hi! I'm Tom Gibson, and I hope you enjoy the AlcoHauler Home Page. Please e-mail me about info, pictures, or if you just want to talk about Alcos! My other interests are the Santa Fe (rest in peace), the Western Pacific, the N-C-O (Nevada California Oregon Ry.), model railroading, flight simulation, computers, fly fishing, and Modoc county (far northeastern California). You can reach me by e-mail. My address is despammed - remove the first t from the address!! Thanks.
Be notified
when the Cal Classic Alco Page changes!
powered by
ChangeDetection
There have been
visitors since 11/17/95. Thanks for dropping by!