The Vickers Viscount
The Viscount is still Britains most successful commercial transport aircraft, with 444 aircraft being built. It is also famous as the worlds first production turboprop airliner. Combining speed, passenger appeal and operating economics, Viscounts formed the basis for many airlines until replaced by pure jet equipment.
On 16th July 1948, the prototype Viscount 630, G-AHRF, took to the skies. The Viscount was designed to fill the need for one of the airliner types specified by Britains Brabazon committee. This called for a pressurized turboprop airliner carrying 24 passengers over distances of up to 1,750 miles at 200 m.p.h. British European Airways (BEA) required a 32 seater, resulting eventually in the Viscount prototype. This aircraft was awarded a restricted Certificate of Airworthiness on 15th September 1949, followed by a full Certificate on 27th July 1950. The second prototype was built as a test bed, with two Rolls-Royce Tay turbojets in place of the four Darts.
The prototype 630 was put into service flying fare paying passengers from 29th July 1950 until 23rd August the same year. This enabled BEA to gain experience in operating the aircraft, before the delivery of the 20 Viscount 700 aircraft ordered. These flights proved the reliability, and popularity with passengers, of the aircraft.
With subsequent Darts delivering more power, Vickers stretched the aircraft to the Viscount 700 specification. First flown on 28th August 1950, the prototype 700 was demonstrated at Farnborough with three of its four engines feathered! Passenger capacity was from 40 to 48 passengers in four abreast, or up to 53 with some five abreast configurations. Later increases in Dart power were utilized in the 700D series of Viscounts, which operated at higher weights, but were the same overall size as the 700s.
Later variants included the 724 (new fuel system, two-pilot cockpit, and increased weight), the 800 (fuselage stretch), and 810 (more powerful engines, structural strengthening, and increased weight). All have been retired from service.
Click on the image to download the plane.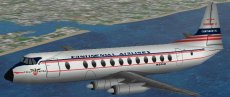 FS2004 Continental Viscount 812. Jens Kristensen has built a new Viscount and he has painted it into Continental colors, which used them on its prime routes between LA, Denver, and Chicago. The new Viscount looks great, Jens!! Later Golden Tail livery by Gary Harper. FSX Version. Later Golden Tail livery by Gary Harper. Last updated on 9/27/11. FS2004 version and FSX version by Rick Piper. Last updated 10/4/2012.