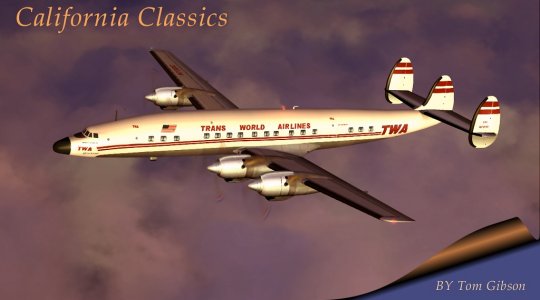 The Boeing Model 307 Stratoliner
Development of the Stratoliner began as the Model 300 in 1934. It emerged as a transport version of the Model 299/B-17C bomber. The wings, engines, nacelles and original tail surfaces all came from the big bomber, but a new and enormous fuselage of circular cross-section gave the 307 a distinctive whale-like appearance. The prototype (one of 4 ordered by Pan American) made its maiden flight on December 31, 1938. Unfortunately, it later broke up pulling out of a spin with a KLM delegation on board. Boeing added a larger fin and rudder to improve directional stability (the B-17E introduced this tail to the bomber version).
Pan American's remaining 3 aircraft were delivered in 1940, named Clipper Flying Cloud, Clipper Comet, and Clipper Rainbow. These aircraft could be distinguished from other 307's by the lack of external flap hinges. All were based in Miami, serving Latin American routes. The five ordered by TWA were also delivered in 1940, but in 1942 were impressed as C-75's into the Army Air Transport Command, flown by TWA crews. These 5 were upgraded in 1944 with B-17G wings, nacelles and tail surfaces. In addition, more powerful engines were installed and the cabin pressurization system was removed. They were later sold to Aigle Azur,and worked in Indo-China; several eventually went to Aeromaritime. A single specially equipped 307 was ordered by Howard Hughes, who planned to set a new record on an around the world flight. The outbreak of WW II cancelled this plan, and Hughes converted it to a flying palace. One is currently being restored in Seattle.
To download the plane, click the plane's image.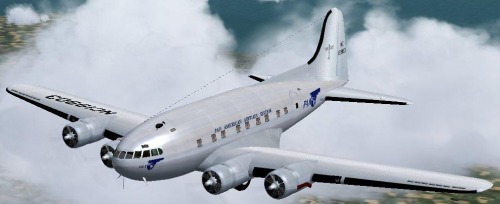 FS2004 PAA and TWA Model 307 Stratoliner. Jens Kristensen constructed her, and she looks great! He's painted it into the original PAA and TWA colors too. Take her for a spin - thanks! Last updated on 1/3/07. FSX Version. Last updated 11/08.
FSX/P3D MDL Files. Last updated on 11/2/2020.
FS2004 B307 Panel by Glenn Duncan, includes a flight dynamics tweak too. Get the update too. Last updated on 8/29/08.