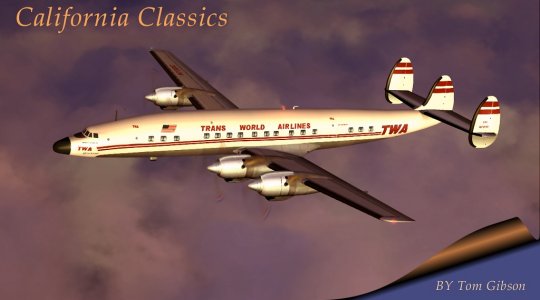 The Convair CV-580
While Convair (based in San Diego like the Classic Airliner Page) was quite successful with its piston powered CV-240/340/440 series of twins, it recognized as early as 1950 that turboprop engines offered some clear advantages over the "round engines". Instead of building a new plane, Convair decided that those very Convair-Liners could be re-engined instead. An experimental installation of Allison T56 engines into a CV-240 in 1950 was quite successful, but the first commercial conversion did not take place until 1954, and then with British Napier Elands. Allegheny and the RCAF purchased the 20 Eland conversions, called the CV-540, but when the Eland program was cancelled in 1962, another engine was needed. Pacific Airmotive, in cooperation with Convair, developed a conversion utilizing Allison 501-D13 turboprops (an improved T56), the first one flying on January 19, 1960. The first delivery of the CV-580 was made in May, and several airlines signed up for 130 conversions, including Frontier, North Central, and Allegheny. A little later, Convair began a conversion program using Rolls-Royce Dart RDa. 10 Mk 542 engines, originally called the CV-240D/340D/440D. Central Airlines was the first customer for the CV-240D, later called the CV-600, and the first one flew on May 20, 1965. A total of 39 CV-600's were produced, while there were 28 CV-640's (the new name for the CV-340D and CV-440D).
The advantages of turbine power included less maintenance, lighter weight, and better performance. For example, the conversion of a CV-340 to CV-580 increased the cruising speed from 284 mph to 342 mph, and the range from 2,000 to 2800 miles! Although the Eland conversions were generally removed due to the discontinuance of the engine program, the other conversions have fared quite well, and many are still in service around the world. They are a relatively inexpensive way to get a turbine powered airplane that has good lifting ability, both for passengers and freight. However, many are now being stored and scrapped as their useful lives run out.
Paint Kit available!
Click on the image to download the plane.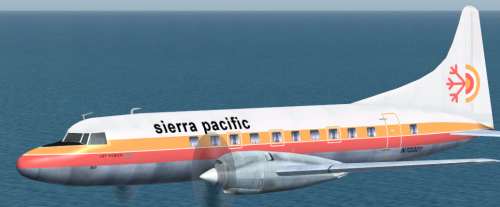 FS2004/FSX Sierra Pacific Airlines CV-580 Base Pack. I've painted up Greg Pepper's CV-580 into the bright early colors of Sierra Pacific, a local service operator in California in the 1970's. They could be seen from San Jose to LAX, connecting these large cities with smaller points in the Golden State, including Lake Tahoe. Now with improved VC and FSX compatibility! Last updated on 4/20/14.
FSX SP2 Sierra Pacific Airlines CV-580. Bjoern Kesten has taken the FS2004 CV-580 above and reworked it for FSX SP2! Also includes freighter and air tanker versions! Thanks Bjoern! Last updated on 2/10/11.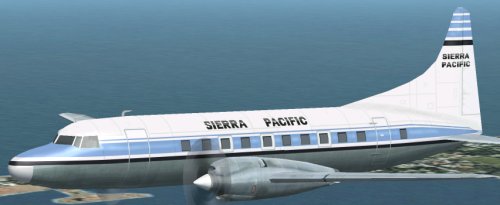 FS2004/FS2002 Sierra Pacific Airlines CV-580. Greg Pepper has created a CV-580 in GMAX, and Jim Campisi has painted it into Sierra Pacific's later colors. Textures only - you must also download the Sierra Pacific 580 above. Last modified on 6/30/03.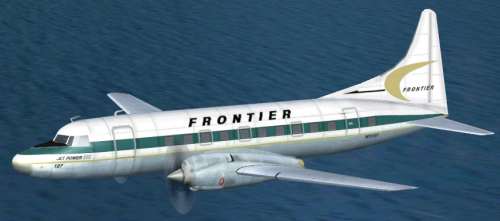 FS2004/FS2002 Frontier Airlines CV-580. While Frontier didn't fly into California itself, United leased a Frontier 580 for several years for the San Francisco-Sacramento-Reno-Elko-Ely-Salt Lake City run, after they had sold their propliners in 1968. Thus they were a relatively common sight around Northern California for a while. Aircraft and paint by Greg Pepper, improvements by Tom Gibson. Use the textures only - you must also download the Orange/Red Sierra Pacific 580 above. Last uploaded on 11/12/04.